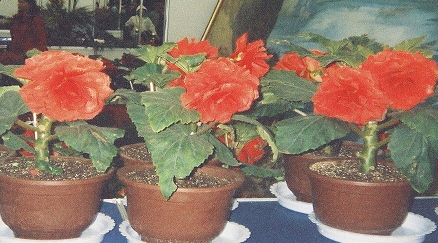 Es war 1988 als es sich der japanische Botaniker Mototeru Kamo zur Aufgabe machte, eine Begonien-Hybride zum Anlass Kim Jong-il's 46. Geburtstag zu züchten. Es wurde eine Kreuzung aus begonia und tuberhybrida, die jährlich am 16. Februar, dem Geburtstag Kim Jong-il's blüht. Auf symbolische Art soll sie die Chuch'e-Ideologie repräsentieren und für Weisheit, Liebe, Recht und Frieden stehen.
Im Dezember 2011 wurde der Leichnam Kim Jong-il's mit Kimjongilias für die Öffentlichkeit geschmückt. Und einige nordkoreanische Komponisten haben sogar ein Lied über diese Blume komponiert. Eine deutsche Übersetzung des Textes hat sich leider nicht finden lassen, und deshalb folgt ein Textauszug aus der englischen Übersetzung:
The red flowers that are blossoming over our land
Are like hearts: full of love for the leader
Our hearts follow the young buds of Kimjongilia
Oh! The flower of our loyalty!