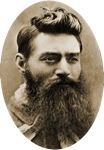 Ned Kelly (* 3. Juni 1855) war ein Aufständischer gegen die australischen Kolonialbehörden, sowie der letzte und gleichzeitig berühmteste Bushranger Australiens. Bushranger nannte man Gesetzeslose in Australien, deren Rückzugsgebiet die unwirtliche Buschlandschaft waren. Bereits als 14-jähriger wurde Kelly wegen Überfalls auf einen chinesischen Schweinezüchter und seiner Komplizenschaft mit dem Straßenräuber Harry Power eingesperrt. Nach mehreren kleineren und größeren Delikten, sowie dem Mord an drei Polizisten, überfiel er 1879 zwei Banken. Mit dem erbeuteten Geld ließ er sich eine Rüstung anfertigen, die zu seinem Markenzeichen werden sollte.
Am 27. Juni 1880 kam es schließlich in Glenrowan zu einem Schusswechsel mit massivem Polizeiaufgebot. Kelly wurde dabei von 28 Kugeln getroffen, überlebte aber, da sich dank seiner Rüstung die Treffer auf Arme und Beine beschränkten. Kelly versuchte zu fliehen, wurde aber gefasst. Im darauffolgen Prozess, am 29. Oktober, wurde Kelly nach nur 25 Minuten von Richter Barry zum Tode durch Erhängen verurteilt. Auf die Aussage des Richters, hoffentlich werde er im Himmel gut aufgenommen, erwiderte Ned, er werde ihn dort bald wiedersehen. Richter Barry verstarb 12 Tage später eines natürlichen Todes.
Ned Kelly ist seit seinem Tod Teil der australischen Folklore. Von vielen wird er als Billy the Kid oder Robin Hood Australiens bezeichnet, für andere ist er ein brutaler Verbrecher. Edward "Ned" Kelly wurde am 11. November 1880 im Old Melbourne Gaol gehängt. Seine letzten Worte werden als "Ah well, I suppose it has come to this… Such is life" zitiert.